Murphysboro businesses have the opportunity to show their Apple Festival spirit with our Window Display Contest. Participants decorate displays to reflect the year's theme.
Be sure to take time during the Apple Festival to visit participating businesses to admire their hard work! The names and addresses of participants will be listed below.
Indoor Window Displays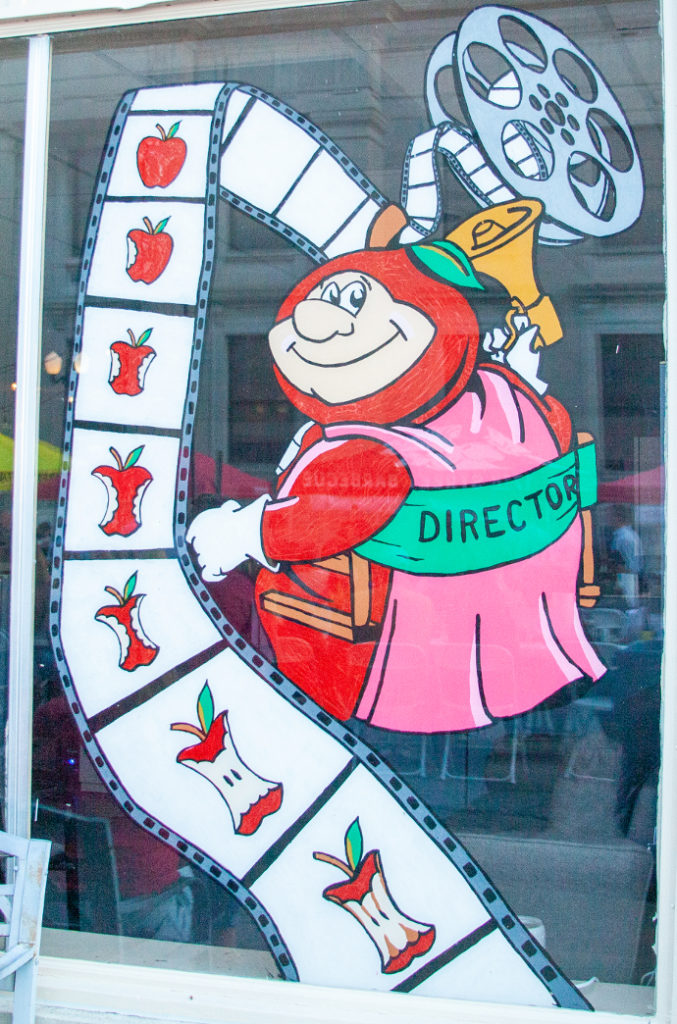 Over the years, we've seen some very creative and beautiful window displays. Do you think you can make your window memorable? The Indoor Window Display Contest is only open to businesses with indoor displays without any outside decorations. The contest is free to enter.
WHO CAN ENTER THE WINDOW DISPLAY CONTEST:
Murphysboro businesses only with indoor-only window displays
INDOOR WINDOW DISPLAY PRIZES:
1st Place: Riseling Trophy, $100 prize, and an
American Flag donated by Marlene McGregor Gibbs
2nd Place: Trophy & $75 prize
3rd Place: Trophy & $25 prize
Window entries will be judged on the following criteria:
Theme (10 points): How well is the theme demonstrated?
Originality (10 points): How well are imagination, simplicity, and clarity demonstrated?
Balance (10 points): Does the window have a good overall balance to eliminate bulkiness, shallowness, and barren spots?
Eye Appeal (10 points): Is the window impressive and striking?
Color Combination (10 points): Does the window have a complementary or contrasting color scheme?
Workmanship (10 points): Is good workmanship evident and is the window made of attractive material?
Apples (10 points): Quality and best use of apples are demonstrated.
Animation (10 points): Is motion used to accentuate the design?
Sound (10 points): Does the sound add to the attractiveness of the window?
Extra Attractive Qualities (10 points): Does the display have humorous, unique, or educational qualities?
---
2023 Window Display Contest Winners
First Mid Bank & Trust
1709 Walnut Street
Handmade Homestead
1300 Walnut Street
St. Joseph Memorial Hospital
2 South Hospital Drive
Walmart
6495 Country Club Road
Balloonology!
1404 Walnut Street
Southern Illinois Sports Resale
601 Walnut Street, Suite 100
The First Bank & Trust Co. of Murphysboro
1403 Walnut Street
Muddy Roots Collective
1339 Walnut Street
Think Vintage
1338 Walnut Street
Jackson County Assessment Office
900 Walnut Street
Brews Brothers Taproom
1105 Chestnut Street
D&D Hemp Store
1337 Walnut Street
Sallie Logan Public Library
1808 Walnut Street
City of Murphysboro-Daum Building
1101 Walnut Street
Murphysboro Abstract
1021 Chestnut Street
White House Salon
1330 Walnut Street