Homes & businesses both have the opportunity to show their Apple Festival spirit with one of our decorating contests. Participants decorate displays to reflect the year's theme.
Be sure to take time during the Apple Festival to visit participating homes and businesses to admire their hard work! Names and addresses of participants will be listed below.
Curb-A-Peel Contest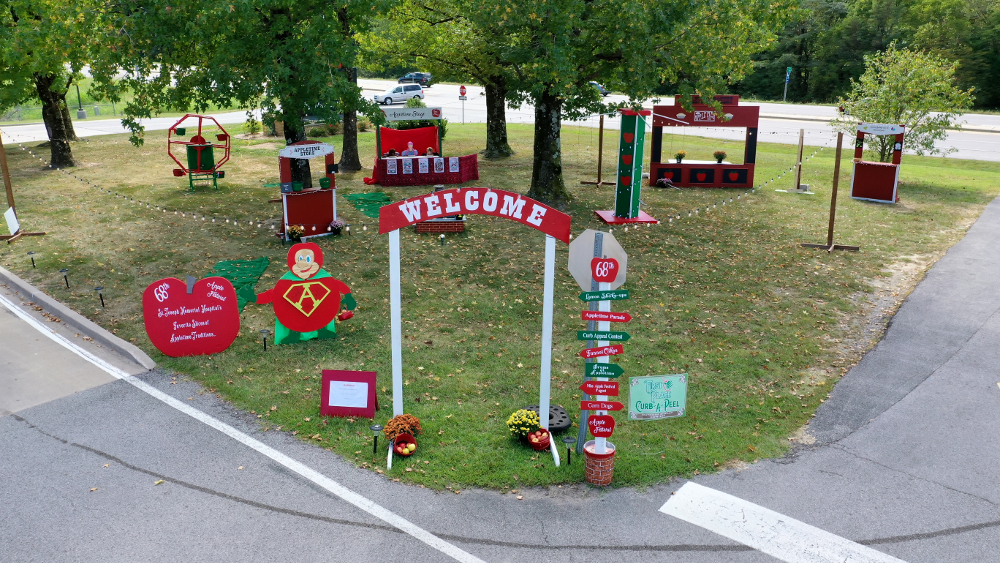 This themed outdoor decorating contest is for both homes and businesses who want to move beyond the window and decorate outdoors. No display is too big or too small! Winners are awarded in two categories: Business & Residential. And of course, the contest is completely free.
WHO CAN ENTER THE "CURB-A-PEEL" CONTEST:
Murphysboro homes and businesses with completely OUTDOOR displays or displays with both INDOOR & OUTDOOR elements.
"CURB-A-PEEL" PRIZES:
1st Place: Trophy, $100 prize, & Recognition Sign in front of the display
2nd Place: Trophy & $75 prize
3rd Place: Trophy & $25 prize
Window Display Contest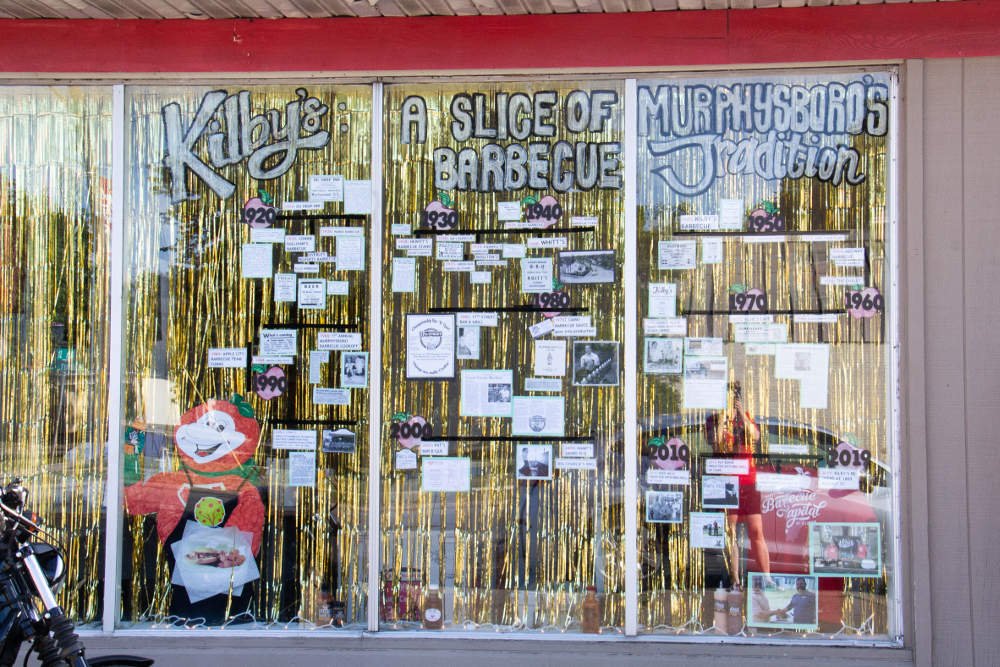 Over the years, we've seen some very creative and beautiful window displays. Do you think you can make your window memorable? The Window Display Contest is only open to businesses with indoor displays without any outside decorations. The contest is free to enter.
WHO CAN ENTER THE WINDOW DISPLAY CONTEST:
Murphysboro businesses with indoor-only window displays
WINDOW DISPLAY PRIZES:
1st Place: Riseling Trophy, $100 prize, and an American Flag (donated by Marlene McGregor Gibbs)
2nd Place: Trophy & $75 prize
3rd Place: Trophy & $25 prize
4th - 8th Places: Trophies
All Others: Participation Award
---
2019 Curb-a-Peel Winners & Participants
St Joseph Memorial Hospital
2 South Hospital Drive
Mary Strothman
1401A Roberta Drive
Tammy's Tiny Tots
500 Lucier Street
Rachel Fager
1809 Walnut Street
Laura Morthland
2004 Spruce Street
Silkworm
102 South Sezmore Drive
2019 Window Display Winners & Partipicants
Walmart
6495 Country Club Road
First Mid Bank & Trust
1709 Walnut Street
S.I. Sports Resale
601 Walnut Street
Think Vintage!
1338 Walnut Street
Ozburn Insurance
1331 Walnut Street
Kilby's BBQ
1801 Walnut Street
Jackson County Housing
300 North 7th Street
Sallie Logan Public Library
1808 Walnut Street
The Bank of Carbondale-Murphysboro Banking Center
900 Walnut Street
Brews Brothers Taproom
1105 Chestnut Street
D&D Hemp Store
1337 Walnut Street
First Southern Bank
109 Walnut Street
H&R Block
330 North 9th Street
Jackson County Housing
33 North 13th Street
Love of Family & Home
1335 Walnut Street
Mansfield Law Office
1340 Walnut Street